HAPPY THANKSGIVING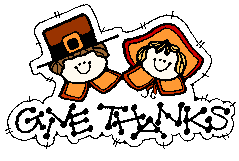 This is a time for reflecting back on all the things we have to be thankful. It is a time for the bringing together of family and traditions. Each year as we sit down to enjoy the blessing of a wonderful meal, each of us shares something we are thankful for. It is a wonder to watch the little ones as they tell how thankful they are for their family. It is a time to say the things we somehow over look many other times of the year. It is a wonderful time for sharing with those we love.
I wish You and Yours a Happy Thanksgiving!!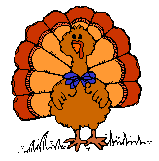 Thanksgiving Page 2
For more Thanksgiving fun with crafts and games!!
Favorite Thanksgiving Links:
Billy Bear's Thanksgiving
This is a wonderful site. There are pages to color, mazes, crossword puzzles, and of course Billy Bear's Thanksgiving clipart. You can even play the game Turkey in the Straw!!
An American Thanksgiving
Read about the First Thanksgiving. Take a virtual tour of Plymouth Plantation. There are lots of great links for fun and even recipes too.
Sylvan's Thanksgiving
This site has pictures to color, mazes, clipart, and craft projects. Have fun!!
Heather's Happy Thanksgiving
Play Find Tom Turkey!
Thanksgiving Coloring Pages
Get your crayons ready. Let's color some pictures to decorate the house for the holiday.
Fall Activities
This is a great site. There is so much to do and see here. There are crafts, music, recipes and lots more. Make sure you check out the other areas of the Idea Box. It's fill with fun, fun, fun!!
A Season of Thanksgiving
You will find stories, recipes, and arts and craft projects to make this holiday special.
A Season of Thanksgiving Stories
Read the new stories and you can add your own story or joke here. Enjoy!!
The First Thanksgiving
Read the history of Thanksgiving. Visit the 1672 pilgrim village and a native homesite.
Thanksgiving Coloring Pages
More pictures to color.
Simple Print Making
Create unique cards, wrapping paper, placemats or placecards for the holidays with this simple technique. Have fun!!
Aunt Annie's Craft Page
This site has great projects for lots of fun. Visit the Craft Project Index for that special project for Thanksgiving or just plain fun!!
Thanksgiving Songs
A list of five Thanksgiving songs.
Thanksgiving Poems
Read three great poems about this holiday.
Thanksgiving Maze
More mazes for more fun.
Washington's 1789 Thanksgiving Proclamation
This document was the first Presidential proclamation ever issued in the United States. Shortly after it was written it was lost for over a hundred years.
Thanksgiving Recipes
Check out the Virtual Recipe Box for that special dish. You can add your own recipes to the box too!!
Honeysuckle White Entertaining Ideas
A great site. There are activities for children, decorating ideas, and a section on what to do with those holiday leftovers. Enjoy!!
Butterball
A fun site. In the Just for Fun section color This Turkey Needs Dressing. Find out the answer to the question of who gets the wishbone and why do they want it. There are recipes here too. Have fun!!
Kaplan's - Gobble It Up
Play Spin the Turkey. Check out the More Games link for more fun stuff.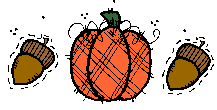 Come and visit my other home pages:

Grandma George's Country Homespun Graphics

Grandma George's House

Grandma George's Page
Come and visit my:

Grandma George's Country Homespun Graphics
Click here to:

Sign My Guestbook

Apply for My Award

Apply for My Reading Award

Return to Home Page
All graphics on this page are from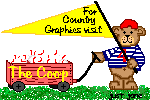 Thanks Susan!!




Thanks Billy Bear!!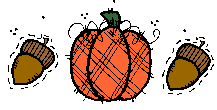 Click on the acorns to email me!
FastCounter by bCentral